Following our standard and well-proven methodology, our team of experienced professionals will partner with your organization and work with your stakeholders to identify and implement the correct GRC use cases for your requirements. Understanding the dependencies and optimal configuration for these use cases is crucial for your program's success. Combined with our partners at Acuity Risk Management and the powerful, versatile, and robust STREAM platform, Agile GRC will bring world-class professional services talent together with market-leading technology to innovate your IRM program.
Acuity's STREAM Integrated Risk Management platform provides a clear line of sight into cyber, IT and operational risk allowing businesses to make informed strategic decisions and build resilience. Through centralization and automation of risk management, STREAM eliminates guesswork, reduces manual processes, communicates risk in business terms and builds stakeholder confidence.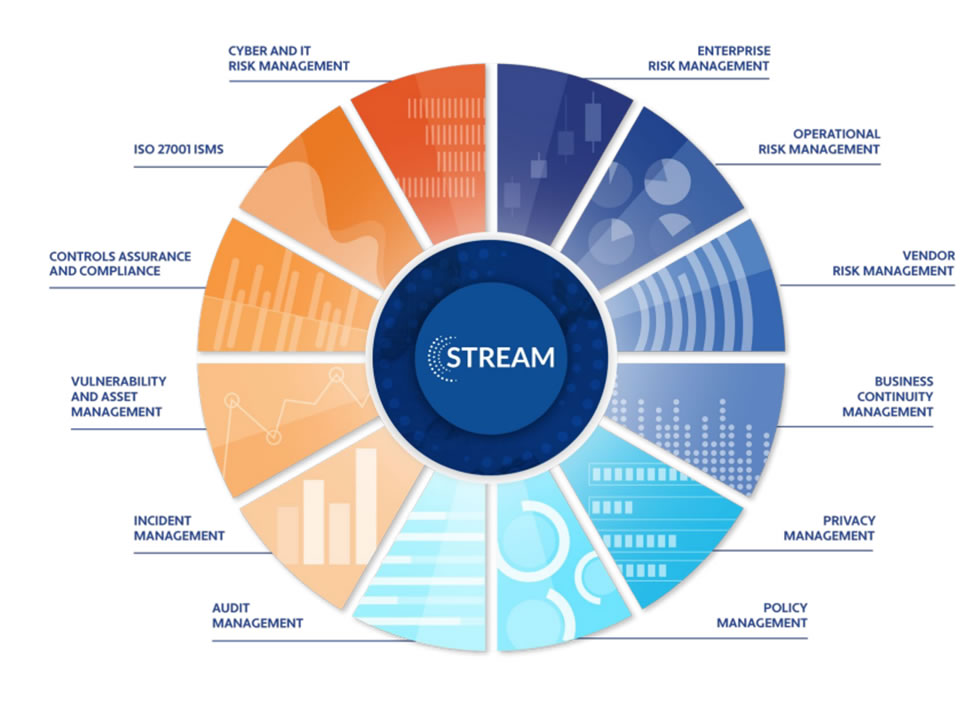 ENTERPRISE RISK MANAGEMENT
.
Agile GRC Solutions, combining our strategic and technical advisory with our partners, gives you full command over your Enterprise Risk Management program. The agile, customizable platform lets departments collaborate on risk monitoring and remediation activities, even as business needs change and the company grows.
THIRD PARTY RISK MANAGEMENT
.
Provide intuitive remediation and mitigation tracking of your their party vendors with Agile GRC Solutions methodology and accelerators.
With Third Party Risk Management your organization can:
Readily assess risk stances around your most critical company vendors via dynamic reporting that provides risk data both by individual vendor and holistically across all vendors.
Remediation tasks can be assigned to external vendors as well as internal staff while tracking mitigation progress through dynamic dashboards.
Accountability via mitigation tracking for external and internal personnel ensures that activities appropriate for their linked risks are being worked.
Notification reminders can be set to automatically alert task owners should they not complete their assigned mitigation tasks by the designated completion date.
Agile GRC Solutions, together with our preferred partners, assists organizations of all sizes to mitigate information risk.
Agile GRC Solutions Compliance Management approach provides a single pane of glass in which to view all of your organization's compliance procedures.
This functionality provides your organization with:
The ability to ensure there is complete oversight at a high-level so all high-risk requirements are addressed as a priority.
The power to administer oversight of all tasks as they are assigned, worked and closed and easily allow for the attaching of evidence of effective resolution at every stop along the way.
The ability to mitigate the possibility of being hit with regulatory penalties by providing evidence of compliance.
Agile GRC Solutions Policy Management implementations, provides the ability to load your corporate policies into the strategic GRC tool of your choosing, provides the ability to digitize your corporate policies and then easily provide a process for ongoing and scheduled review and approval tasks.
Through the Policy Management platform:
Agile GRC Solutions Incident Management engagements provides your organization with the ability to, respond to and close out incidents quickly through efficient workflow management and response.
Through the Incident Management platform:
Agile GRC will work with your organization to build a workflow customized for your business. Rules can be established with assigned completion dates and notification alerts to ensure that incidents do not get "stuck" in the process.
Automate and standardize your incident playbook so there is consistency in regard to which key players in your organization are notified during the review and mitigation process.
Link incidents with other associated entities in your organization – such as policies, controls, authoritative sources, devices, etc.
Agile GRC Solutions approach to GDPR compliance provides your organization with an efficient, elegant and streamlined process to align your corporate compliance efforts to GDPR laws and regulations.
Through the GDPR Compliance platform:
AUDIT & CONTROLS MANAGEMENT
.
Agile GRC Solutions Audit & Control Management implementations provide your organization with the ability to take routine compliance activities and automate them throughout your organization.
Through the Audit & Controls Management platform:
Your company can perform extensive and far-reaching regulatory risk assessments for viewing within one pane of glass by creating logical relationships between disparate audit processes.
Your organization can track audit workflow in real-time while assigning evidence requests, accepting feedback and updating.
Your company can realize efficiencies around eliminating duplication of work and automating manual collection and assessment of results.
BUSINESS CONTINUITY MANAGEMENT
.
Agile GRC Solutions Business Continuity Management approach provides your organizations with the ability to put in place safeguards to ensure that your organization can respond to events that could otherwise place your operations in jeopardy.
Through the Business Continuity Management platform:
READY TO SEE GRC SOFTWARE IN ACTION

?
REQUEST A FREE DEMO TODAY
.